Welcome to the Spoil Your Family Summer Giveaway Event being hosted by Annette from Annette Funnyjello and myself. Our first sponsor for today is 191 Unlimited. Be sure to visit Annette's blog for a second chance to win the same prize being offered here.
191 Unlimited was founded in 2002 with $191 and a dream. Long time best friends Parth Sharma and Girish Karnani took $191 to the casino and turned it into enough money to launch their first 191 Unlimited collection. The two college grads then loaded the samples into their car and went on a 2 month trek from NY to LA and back, stopping in as many cities as possible to show their line to specialty stores.

The founders had 4 original principles by which they wanted each shirt to be made: 1) Awesome Fit, 2) Extreme Comfort, 3) Innovative Detailing, and 4) Affordability. 191 Unlimited still employs these 4 core principles in the making of all of its products.
We received four shirts from 191 Unlimited. Three of them, Ben loves and has worn quite a few times. The other one hangs in the closet 24 hours a day, 7 days a week. I like it but Ben doesn't. He even has a similar shirt in different colors that he wears as an over shirt…but for some odd reason he doesn't like the shirt below. I used a picture of the kids version because that's all I could find.
Ben's two favorite shirts he received are called Anarchy and Right Place. They are both very stylish and make him look so handsome. I wish he had more clothes like the ones we received from 191 Unlimited.
I also love that they have matching shirts for young boys. I can't wait to purchase one of the shirts Ben received for Leland so they can be "twins".
Giveaway: One lucky reader will win three 191 Unlimited shirts (chosen by the sponsor, you choose the size).
Required Entry: Tell me one item you like from the 191 Unlimited website.
For extra entries you can do any or ALL of the following:
* Follow my blog through Google Friend Connect (sidebar).
* Subscribe to my feed via e-mail or RSS.
* Follow @lelandsmama on Twitter.
* Follow @191Unlimited on Twitter.
* Tweet about this giveaway using the retweet button at the top of this post (or if you're feeling creative, use your own tweet). This can be done once daily.
* Grab my button and place it on your sidebar or blog roll. Leave me a link to the location of the button in the comments section of this post.
* Grab the Spoil Your Family Summer Event button and place it on your sidebar or blog roll. Leave me a link to the location of the button in the comments section of this post. (Remember it's 5 entries, which means 5 comments if you had the button before July 1st!)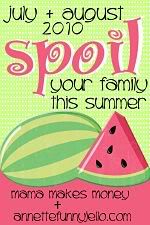 * Leave a comment on a non-giveaway post and leave a comment below telling me where you commented. This can be any post written in the past month and can be done as many times on separate posts as you would like for extra entries. Make sure the comment you leave is legitimate, at least 3 words.
* Blog about this giveaway = 5 Entries (Please leave 5 comments). Link back to this post and 191 Unlimited. (Make sure you leave me a link to your blog entry. Blog post must be at least 100 words and NOT be copied and pasted from my blog.)
* Enter the 191 Unlimited giveaway at Annette Funnyjello.
* "Like" Mama Makes Money on Facebook.
* "Like" 191 Unlimited on Facebook.
* Follow Mama Makes Money on Networked Blogs.
* Add this giveaway to a Mister Linky, Contest Site, Forum, Facebook, Myspace, Stumble, Digg, etc. (unlimited entries).
This giveaway will end on Friday September 24, 2010 at 11:59 PM CST and is open to residents of the USA. I will choose the winner via random.org and announce and e-mail the winner some time on September 25, 2010.
Disclosure: 191 Unlimited provided me with product(s) to review for this post. They are also providing the prize to the winner of this giveaway. All opinions expressed about the company are 100% mine.