Welcome to day 21 of the Spoil Your Family Summer Giveaway Event being hosted by Annette from Annette Funnyjello and myself. To continue with our theme for the day, cleaning chemical free, our next sponsor is Activeion. Be sure to visit Annette's blog for a second chance to win the same prize being offered here.
Activeion products are versatile, on demand cleaning and sanitizing tools that activate and convert tap water into ionized water, a dirt-removing, bacteria-killing cleaner. The fact that water alone, no chemicals included can clean my home so well is completely above my head. I still can't explain the science behind it, but Bill Nye the Science Guy can.
I received the Activeion HOM Ionator to review. I love this thing! It works on any surface. I use it to clean my stove, counters, bathtub, sinks, problem spots on carpet, tile and wood floors. My favorite spot to use it on are the cracks in between the tile floors in my kitchen and entry ways. It works amazingly! Not only is it cleaning my home to the point where it sparkles…but it's also killing germs with ONLY water.
Can you believe that? I know I didn't at first, but after using it several times (and I DO mean several!) I know my home is cleaner and I just feel safer knowing that if Leland comes across it and begins playing with it, he won't get hurt because you could drink the water and nothing will come of it. My fiance has even used it as a spray bottle to keep himself cool while showing one of our friends how it works. He's safe, I can breathe easy. Also, now that we have a cleaning tool that is like a gun, he seems more compelled to help with the cleaning. What girl wouldn't love that added perk?
Giveaway: One winner will receive an Activeion HOM Ionator ($179.99).
Required Entry: Tell me something you learned from the Activeion website or simply tell me why you would like to own an Activeion HOM Ionator.
For extra entries you can do any or ALL of the following:
* Follow my blog through Google Friend Connect (sidebar).
* Subscribe to my feed via e-mail or RSS.
* Follow @lelandsmama on Twitter.
* Follow @activeion on Twitter.
* Tweet about this giveaway using the retweet button at the top of this post (or if you're feeling creative, use your own tweet). This can be done once daily.
* Grab my button and place it on your sidebar or blog roll. Leave me a link to the location of the button in the comments section of this post.
* Grab the Spoil Your Family Summer Event button and place it on your sidebar or blog roll. Leave me a link to the location of the button in the comments section of this post. (Remember it's 5 entries, which means 5 comments if you had the button before July 1st!)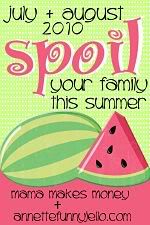 * Leave a comment on a non-giveaway post and leave a comment below telling me where you commented. This can be any post written in the past month and can be done as many times on separate posts as you would like for extra entries. Make sure the comment you leave is legitimate, at least 3 words.
* Blog about this giveaway = 5 Entries (Please leave 5 comments). Link back to this post and Activeion. (Make sure you leave me a link to your blog entry. Blog post must be at least 100 words and NOT be copied and pasted from my blog.)
* Enter the Activeion giveaway at Annette Funnyjello.
* "Like" Mama Makes Money on Facebook.
* "Like" Activeion on Facebook.
* Follow Mama Makes Money on Networked Blogs.
* Add this giveaway to a Mister Linky, Contest Site, Forum, Facebook, Myspace, Stumble, Digg, etc. (unlimited entries).
This giveaway will end on Wednesday August 11, 2010 at 11:59 PM CST and is open to residents of the USA. I will choose the winner via random.org and announce and e-mail the winner some time on August 12, 2010.
Disclosure: Activeion provided me with product(s) to review for this post. They are also providing the prize to the winner of this giveaway. All opinions expressed about the company are 100% mine.