Welcome to day 28 of the Spoil Your Family Summer Giveaway Event being hosted by Annette from Annette Funnyjello and myself. Today's sponsor is the very yummy Ben & Jerry's. Be sure to visit Annette's blog for another chance to win the same prize being offered here.
I love Ben & Jerry's, have loved them for years, since my very first taste of their Chocolate Chip Cookie Dough ice cream. Since then, I have tried many different unique and tasty flavors. Even though they are all incredibly delicious, I would like to highlight my top five favorite flavors.
Half Baked – Chocolate & Vanilla Ice Creams with Fudge Brownies & Gobs of Chocolate Chip Cookie Dough
Imagine Whirled Peace – Caramel & Sweet Cream Ice Creams Swirled with Fudge Peace Signs & Toffee Cookie Pieces
Mud Pie – Chocolate & Coffee Liqueur Ice Creams Swirled Together with a Chocolate Cookie Swirl
New York Super Fudge Chunk – Chocolate Ice Cream with White & Dark Fudge Chunks, Pecans, Walnuts & Fudge Covered Almonds
and my most favorite…
Dublin Mudslide – Irish Cream Liqueur Ice Cream with Chocolate Chocolate Chip Cookies and a Coffee Fudge Swirl
Dublin Mudslide is hard to find around here, so I often buy Mud Pie since it's similar. There are a few other flavors I would love to try that are also hard to find here: Fossil Fuel, Mint Chocolate Chunk and Mint Chocolate Cookie to name a few.
If there were a Ben & Jerry's Scoop Shop around here, I know I would be there all too often. I do, however, wish the company still shipped ice cream, especially when it comes to those hard to find flavors. It would be a great option for parties, like Leland's second birthday or our Summer wedding which are both just around the corner.
Giveaway: Two lucky readers will each win 10 Ben & Jerry's FREE pint coupons (ARV $30 for each winner).
Required Entry: Tell me which flavor you would most like to try from the Ben & Jerry's website.
For extra entries you can do any or ALL of the following:
* Follow my blog through Google Friend Connect (sidebar).
* Subscribe to my feed via e-mail or RSS.
* Follow @lelandsmama on Twitter.
* Follow @cherrygarcia on Twitter.
* Tweet about this giveaway using the retweet button at the top of this post (or if you're feeling creative, use your own tweet). This can be done once daily.
* Grab my button and place it on your sidebar or blog roll. Leave me a link to the location of the button in the comments section of this post.
* Grab the Spoil Your Family Summer Event button and place it on your sidebar or blog roll. Leave me a link to the location of the button in the comments section of this post. (Remember it's 5 entries, which means 5 comments if you had the button before July 1st!)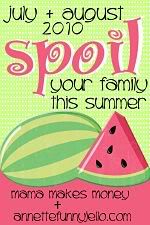 * Leave a comment on a non-giveaway post and leave a comment below telling me where you commented. This can be any post written in the past month and can be done as many times on separate posts as you would like for extra entries. Make sure the comment you leave is legitimate, at least 3 words.
* Blog about this giveaway = 5 Entries (Please leave 5 comments). Link back to this post and Ben & Jerry's. (Make sure you leave me a link to your blog entry. Blog post must be at least 100 words and NOT be copied and pasted from my blog.)
* Enter the Ben & Jerry's giveaway at Annette Funnyjello.
* "Like" Mama Makes Money on Facebook.
* "Like" Ben & Jerry's on Facebook.
* Follow Mama Makes Money on Networked Blogs.
* Add this giveaway to a Mister Linky, Contest Site, Forum, Facebook, Myspace, Stumble, Digg, etc. (unlimited entries).
This giveaway will end on Wednesday August 18, 2010 at 11:59 PM CST and is open to residents of the USA. I will choose the winner via random.org and announce and e-mail the winner some time on August 19, 2010.
Disclosure: Ben & Jerry's provided me with product(s) to review for this post. They are also providing the prize to the winner of this giveaway. All opinions expressed about the company are 100% mine.