Welcome to the Spoil Your Family Summer Giveaway Event being hosted by Annette from Annette Funnyjello and myself. Today's first sponsor is Cafe Press, where you can find funny clothing and accessories, as well as personalize your own items. Be sure to visit Annette's blog for another chance to win the same prize being offered here.
I had the opportunity to review an item from two section of the Cafe Press website: t-shirts and tote bags.
It took me hours to decide which shirt I wanted. I searched for all of my favorite TV shows, looking for shirts with quotes from them or references to them. I finally picked a favorite after I opened too many tabs to count. The shirt I chose features a Lorelai quote from the show Gilmore Girls: "I can't stop drinking the coffee. I stop drinking coffee, I stop doing the standing and walking and the words putting-into-sentence doing." It's really cute and it fits perfectly. I haven't had any problems with it shrinking in the washer or anything of that nature and I love showing off my love for Gilmore Girls publicly.
Choosing the tote bag was a lot easier, since I already had something in mind. I knew I wanted a bag with a cassette tape on it. I love music and I already have a tote bag that looks like a turntable, so this seemed like the next logical choice, of course. I instantly fell in love with the one photographed below:
This bag is great. I use it as a diaper bag because it's huge. It has gotten dirty once or twice and I have put in the washer and dryer. My only complaint is that if I don't want it to look wrinkled, I have to iron it or fill it to brim with items. I choose to do the latter.
My favorite thing about the Cafe Press website is that there are many different stores custom made by people like you and me to shop from. If you find one thing you like from a particular shop, chances are you will like other items that person has made as well. In addition to all these shops, you can create your own…or just personalize gifts for your family and friends, or yourself.
Giveaway: One reader will receive their own choice of t-shirt and tote bag from Cafe Press.
Required Entry: Tell me which t-shirt or tote bag you would choose from the Cafe Press website or post a link of an item you have created on the website.
For extra entries you can do any or ALL of the following:
* Follow my blog through Google Friend Connect (sidebar).
* Subscribe to my feed via e-mail or RSS.
* Follow @lelandsmama on Twitter.
* Follow @ on Twitter.
* Tweet about this giveaway using the retweet button at the top of this post (or if you're feeling creative, use your own tweet). This can be done once daily.
* Grab my button and place it on your sidebar or blog roll. Leave me a link to the location of the button in the comments section of this post.
* Grab the Spoil Your Family Summer Event button and place it on your sidebar or blog roll. Leave me a link to the location of the button in the comments section of this post. (Remember it's 5 entries, which means 5 comments if you had the button before July 1st!)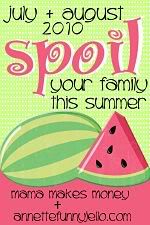 * Leave a comment on a non-giveaway post and leave a comment below telling me where you commented. This can be any post written in the past month and can be done as many times on separate posts as you would like for extra entries. Make sure the comment you leave is legitimate, at least 3 words.
* Blog about this giveaway = 5 Entries (Please leave 5 comments). Link back to this post and CafePress. (Make sure you leave me a link to your blog entry. Blog post must be at least 100 words and NOT be copied and pasted from my blog.)
* Enter the Cafe Press giveaway at Annette Funnyjello.
* "Like" Mama Makes Money on Facebook.
* "Like" Cafe Press on Facebook.
* Follow Mama Makes Money on Networked Blogs.
* Add this giveaway to a Mister Linky, Contest Site, Forum, Facebook, Myspace, Stumble, Digg, etc. (unlimited entries).
This giveaway will end on Friday August 20, 2010 at 11:59 PM CST and is open to residents of the USA. I will choose the winner via random.org and announce and e-mail the winner some time on August 21, 2010.
Disclosure: Cafe Press provided me with product(s) to review for this post. They are also providing the prize to the winner of this giveaway. All opinions expressed about the company are 100% mine.