Welcome to the Spoil Your Family Summer Giveaway Event being hosted by Annette from Annette Funnyjello and myself. Today's second sponsor (which is all about spoiling our pets) is Clean + Green by SeaYu. Be sure to visit Annette's blog for a second chance to win the same prize being offered here.
CLEAN+GREEN® is the only eco-friendly aerosol pet odor remover and pet stain remover product on the planet! Our line of eco friendly, green cleaning products are made from organic and biodegradable ingredients and packaged so you can recycle the container – now you can clean green! For green pet cleaning, use effective, non toxic, organic home cleaning supplies and keep an environmentally friendly home – with pets.
We tried two of their products for cat smells and stains. We tried the Cat Urine Odor and Stain Remover Clean+Green for Carpet and Upholstery and the one for Wood and Tile.
We get tons of use out of the Wood and Tile one since most of our townhouse is hard floor. Only our bedrooms and stairs have carpets…and then there are the occasional couch messes to clean up.
The best thing about these products is that they really do get rid of pets stains. However, I do not like the way it gets rid of pet smells and odors. It seems to cover it with another not so nice odor. So while it does work, we usually spray a random Febreze product over it.
Giveaway: One lucky reader will win two Clean + Green SeaYu products of their choice.
Required Entry: Tell me something you learned from the Clean + Green by SeaYu website.
For extra entries you can do any or ALL of the following:
* Follow my blog through Google Friend Connect (sidebar).
* Subscribe to my feed via e-mail or RSS.
* Follow @lelandsmama on Twitter.
* Follow @SeaYu on Twitter.
* Tweet about this giveaway using the retweet button at the top of this post (or if you're feeling creative, use your own tweet). This can be done once daily.
* Grab my button and place it on your sidebar or blog roll. Leave me a link to the location of the button in the comments section of this post.
* Grab the Spoil Your Family Summer Event button and place it on your sidebar or blog roll. Leave me a link to the location of the button in the comments section of this post. (Remember it's 5 entries, which means 5 comments if you had the button before July 1st!)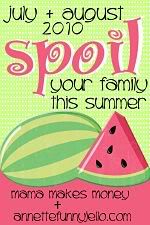 * Leave a comment on a non-giveaway post and leave a comment below telling me where you commented. This can be any post written in the past month and can be done as many times on separate posts as you would like for extra entries. Make sure the comment you leave is legitimate, at least 3 words.
* Blog about this giveaway = 5 Entries (Please leave 5 comments). Link back to this post and SeaYu. (Make sure you leave me a link to your blog entry. Blog post must be at least 100 words and NOT be copied and pasted from my blog.)
* Enter the SeaYu giveaway at Annette Funnyjello.
* "Like" Mama Makes Money on Facebook.
* "Like" SeaYu on Facebook.
* Follow Mama Makes Money on Networked Blogs.
* Add this giveaway to a Mister Linky, Contest Site, Forum, Facebook, Myspace, Stumble, Digg, etc. (unlimited entries).
This giveaway will end on Friday September 17, 2010 at 11:59 PM CST and is open to residents of the USA. I will choose the winner via random.org and announce and e-mail the winner some time on September 18, 2010.
Disclosure: SeaYu provided me with product(s) to review for this post. They are also providing the prize to the winner of this giveaway. All opinions expressed about the company are 100% mine.