Welcome to day 27 of the Spoil Your Family Summer Giveaway Event being hosted by Annette from Annette Funnyjello and myself. Today's sponsor is Corel. Be sure to visit Annette's blog for another chance to win the same prize pack being given away here.
Corel is one of the world's top software companies with more than 100 million active users in over 75 countries. Through the years, we've built a reputation for delivering innovative, trusted products that are easier to learn and use, helping people achieve new levels of productivity. The industry has responded with hundreds of awards for software innovation, design and value. Our award-winning product portfolio includes some of the world's most widely recognized and popular software brands, including CorelDRAW® Graphics Suite, Corel® Paint Shop Pro® Photo, Corel® Painter™, VideoStudio®, WinDVD®, Corel® WordPerfect® Office and WinZip®.
Corel Paint It!
Turn your photos into beautiful paintings in just three easy steps with Corel® Paint it!™. This fun photo painting software takes your favorite photo memories and magically transforms them into unique, hand-painted works of art. Simply choose a painting style and press Start Photo Painting. Then add fun effects to make it truly yours. Save, print, share online or frame your photo art creations. Voila, it's your life, automagically painted!
With Corel Paint It!, you have several different options as far as painting styles go. You can choose: Oil, Impressionist, Modern, Illustration, Detailed Watercolor, Watercolor Sketch, Colored Pencil Drawing, Pencil Drawing, Pen & Ink Drawing and finally the one I went with for the photo below, which is Pastel Drawing.
The neatest thing about the program to me, is that you can watch it transform each photo stroke by stroke, as if it were really being painted by an artist sitting in front of you. It takes some time, but it's so worth it, just to see the layers of strokes it would have taken an artist to complete a piece of art like that.
This program usually retails for $39.99 but can be found HERE
on Amazon for as low as $29.99.
Corel Digital Studio 2010
For the first time on the PC, Corel® Digital Studio™ 2010 brings photo editing, movie making, DVD/AVCHD™ burning, creative projects and easy sharing software together, with one common look and feel that makes your digital experience simple. Now you can organize, edit, create, back up and share all your memories in one place—faster, easier and with truly amazing results.
Corel Digital Studio offers many options for photo editing some of my favorites including effects such as black & white, antique and sepia. I also like that it offers touch-up options such as teeth whitening, adding sun tans and fixing blemishes and red eye. I do still wish it offered more effects, but for the price, there are a ton of options. The only thing I could not find and think really needs to be included is an option to resize. I had to use another program just to resize the photo below.
I'll be using VideoStudio and DVD Factory more extensively after my wedding. I definitely want to create DVDs for family and friends who can't be there on our special day, and of course for us to look back on in future years. I love that I can easily import videos and photos and add both to my videos…and then just add them to Youtube with one click. That is extremely convenient.
Digital Studio 2010 installation was really quick and simple considering how many different programs it's installing. I was very impressed with the speed and I love that I can use all of the programs now without the disc because we all know how much of a pain it can be to find a disc when you have a toddler moving things around.
This program bundle normally retails for $99.99 but can be found Corel Digital Studio 2010
on Amazon for as low as $24 brand new. This is a steal, so if you don't win one of the giveaways, you should definitely purchase it.
Giveaway: One lucky reader will win both Corel programs highlighted above, Paint It! and Digital Studio 2010 (Total ARV $140).
Required Entry: Tell me which product you would most like to own from the Corel website.
For extra entries you can do any or ALL of the following:
* Follow my blog through Google Friend Connect (sidebar).
* Subscribe to my feed via e-mail or RSS.
* Follow @lelandsmama on Twitter.
* Follow @CorelDealsUS_CA on Twitter.
* Tweet about this giveaway using the retweet button at the top of this post (or if you're feeling creative, use your own tweet). This can be done once daily.
* Grab my button and place it on your sidebar or blog roll. Leave me a link to the location of the button in the comments section of this post.
* Grab the Spoil Your Family Summer Event button and place it on your sidebar or blog roll. Leave me a link to the location of the button in the comments section of this post. (Remember it's 5 entries, which means 5 comments if you had the button before July 1st!)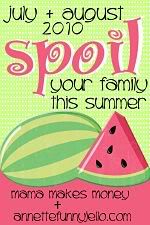 * Leave a comment on a non-giveaway post and leave a comment below telling me where you commented. This can be any post written in the past month and can be done as many times on separate posts as you would like for extra entries. Make sure the comment you leave is legitimate, at least 3 words.
* Blog about this giveaway = 5 Entries (Please leave 5 comments). Link back to this post and Corel. (Make sure you leave me a link to your blog entry. Blog post must be at least 100 words and NOT be copied and pasted from my blog.)
* Enter the Corel giveaway at Annette Funnyjello.
* "Like" Mama Makes Money on Facebook.
* "Like" Corel on Facebook.
* Follow Mama Makes Money on Networked Blogs.
* Add this giveaway to a Mister Linky, Contest Site, Forum, Facebook, Myspace, Stumble, Digg, etc. (unlimited entries).
This giveaway will end on Tuesday August 17, 2010 at 11:59 PM CST and is open to residents of the USA and Canada. I will choose the winner via random.org and announce and e-mail the winner some time on August 18, 2010.
Disclosure: Corel provided me with product(s) to review for this post. They are also providing the prize to the winner of this giveaway. All opinions expressed about the company are 100% mine.