Welcome to day 32 of the Spoil Your Family Summer Giveaway Event being hosted by Annette from Annette Funnyjello and myself. To continue with today's theme of "A Night In with your Loved Ones", our next sponsor is Domino's Pizza. Be sure to visit Annette's blog for another chance to win the same prize being offered here.
If you're a regular reader, you may remember that Ben (my fiancé) works for Domino's Pizza. We eat the stuff all the time, to the point where I'm sick of it. Today, I want to let you know about a new promotion they are running.
Domino's is beginning a new "Show Us Your Pizza" campaign where they are making some promises about the way their pizzas are photographed from now on.
Here at Domino's, we don't think our inspired Domino's pizza needs the "extra" things typically done to food at photo shoots to look mouth watering. Our pizza is good enough to stand on its own. That's why we're making the following promises about how we photograph our pizzas from this day forward. Did we just buck the food photography trend? Oh yes we did.

1. We will only photograph real, honest-to-goodness pizzas.
That means fresh from our own ovens, with exactly the same ingredients we deliver to your doorstep. Nothing else added.

2. Our employees will make the pizza we shoot.
Not an art director or model maker or food stylist. A Domino's employee trained to make pizzas the only way they know how: by hand.

3. We will not artificially manipulate the food we shoot.
No tweezers, no steam guns, no model knives cutting perfect perforations in the cheese. The only thing that will touch the pizzas we shoot is the pizza-maker's hands and a standard Domino's pizza cutter.
Even better, you can receive prizes for sending in photos of your own Domino's pizza. Eight winners will receive $500 AND a chance for their photo to appear in a Domino's ad. Do you think you have what it takes? Enter HERE.
Giveaway: One reader will win a $20 Domino's gift card.
Required Entry: Tell me something you learned from the Show Us Your Pizza website.
For extra entries you can do any or ALL of the following:
* Follow my blog through Google Friend Connect (sidebar).
* Subscribe to my feed via e-mail or RSS.
* Follow @lelandsmama on Twitter.
* Follow @dominos on Twitter.
* Tweet about this giveaway using the retweet button at the top of this post (or if you're feeling creative, use your own tweet). This can be done once daily.
* Grab my button and place it on your sidebar or blog roll. Leave me a link to the location of the button in the comments section of this post.
* Grab the Spoil Your Family Summer Event button and place it on your sidebar or blog roll. Leave me a link to the location of the button in the comments section of this post. (Remember it's 5 entries, which means 5 comments if you had the button before July 1st!)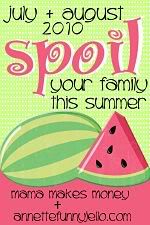 * Leave a comment on a non-giveaway post and leave a comment below telling me where you commented. This can be any post written in the past month and can be done as many times on separate posts as you would like for extra entries. Make sure the comment you leave is legitimate, at least 3 words.
* Blog about this giveaway = 5 Entries (Please leave 5 comments). Link back to this post and Domino's Pizza. (Make sure you leave me a link to your blog entry. Blog post must be at least 100 words and NOT be copied and pasted from my blog.)
* Enter the Domino's giveaway at Annette Funnyjello.
* "Like" Mama Makes Money on Facebook.
* "Like" Domino's on Facebook.
* Follow Mama Makes Money on Networked Blogs.
* Add this giveaway to a Mister Linky, Contest Site, Forum, Facebook, Myspace, Stumble, Digg, etc. (unlimited entries).
This giveaway will end on Sunday August 15, 2010 at 11:59 PM CST and is open to residents of the USA. I will choose the winner via random.org and announce and e-mail the winner some time on August 16, 2010.
Disclosure: Domino's did NOT provide me with product(s) to review for this post. They are, however, providing the prize to the winner of this giveaway. All opinions expressed about the company are 100% mine.