Welcome to the Spoil Your Family Summer Giveaway Event being hosted by Annette from Annette Funnyjello and myself. Today's sponsor is FAB Beauty. Be sure to visit Annette's blog for another chance to win the same prize being offered here.
FAB Beauty is a line of cosmetics targeted towards pre-teen girls. Not being a pre-teen, nor having one, made it a bit difficult to review this line. I had flashbacks from 10 years ago (when I was a pre-teen) as soon as I received my review items.
I received a luxe nail kit, which included a few nail polishes, a nail file and diamonds for your nails. These days, I think this item may be a bit juvenile for pre-teens…but I think 4 to 7 year olds would enjoy it when they're longing to be like mommy.
I also received a really cute Kiss Kiss lip gloss in Smooch. I know this is an item I would have loved as a pre-teen and still do actually. I loved things with lips on them when I was a kid, I had a lip shaped phone in my bedroom (a la DJ from Full House). The gloss itself gives just the right amount of shimmer and is comfortable to wear and put on. It doesn't leave you feeling sticky and gross. It is definitely my favorite FAB Beauty product so far!
I unfortunately, no longer see this item on the Fab Beauty website, nor can I find it anywhere else. I hope they haven't stopped making it because I would love to buy more. Here is a picture of me wearing the Smooch shade.
Lastly, I received a three pack of scented lip balms in Cherry Vanilla, Grape and Orange. Leland liked these more than I did. Every time he saw mommy put some on, he wanted some too. I think he liked all of the flavors, maybe it reminded him of juice. It made him really happy to wear mommy's lip balm though.
Giveaway: Four readers will win a prize package from FAB Beauty:
* Destiny Body Glitter
* Bedazzled Glitter Set
* LOL Lip Gloss
* Juicy Lip Balm
Required Entry: Tell me an item you would like to own from the FAB Beauty website.
For extra entries you can do any or ALL of the following:
* Follow my blog through Google Friend Connect (sidebar).
* Subscribe to my feed via e-mail or RSS.
* Follow @lelandsmama on Twitter.
* Follow @FABCosmetics on Twitter.
* Tweet about this giveaway using the retweet button at the top of this post (or if you're feeling creative, use your own tweet). This can be done once daily.
* Grab my button and place it on your sidebar or blog roll. Leave me a link to the location of the button in the comments section of this post.
* Grab the Spoil Your Family Summer Event button and place it on your sidebar or blog roll. Leave me a link to the location of the button in the comments section of this post. (Remember it's 5 entries, which means 5 comments if you had the button before July 1st!)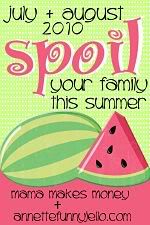 * Leave a comment on a non-giveaway post and leave a comment below telling me where you commented. This can be any post written in the past month and can be done as many times on separate posts as you would like for extra entries. Make sure the comment you leave is legitimate, at least 3 words.
* Blog about this giveaway = 5 Entries (Please leave 5 comments). Link back to this post and FAB Beauty. (Make sure you leave me a link to your blog entry. Blog post must be at least 100 words and NOT be copied and pasted from my blog.)
* Enter the FAB Beauty giveaway at Annette Funnyjello.
* "Like" Mama Makes Money on Facebook.
* "Like" FAB Beauty on Facebook.
* Follow Mama Makes Money on Networked Blogs.
* Add this giveaway to a Mister Linky, Contest Site, Forum, Facebook, Myspace, Stumble, Digg, etc. (unlimited entries).
This giveaway will end on Wednesday September 15, 2010 at 11:59 PM CST and is open to residents of the USA. I will choose the winner via random.org and announce and e-mail the winner some time on September 16, 2010.
Disclosure: FAB Beauty provided me with product(s) to review for this post. They are also providing the prize to the winner of this giveaway. All opinions expressed about the company are 100% mine.