Welcome to the Spoil Your Family Summer Giveaway Event being hosted by Annette from Annette Funnyjello and myself. Today's sponsor is Hard Candy. Be sure to visit Annette's blog for a chance to win the same prize being offered here.
I've seen Hard Candy cosmetics around for years, but I can't recall ever using any of the products until now. I think I'm really rough with cosmetics (or my two year old is) because everything I received from the company has wound up broken in one way or another…except for the nail polish I received.
I received the Just Nails with Ring nail polish in the color Splendid (a cute, summery yellow shade). My favorite thing about this nail polish is that it comes with a matching plastic fashion ring. A picture of me wearing the ring is below.
I also received the Blush Crush Baked Blush in Honeymoon. I love the name of this shade. It reminds me of a song I love called Honey & the Moon. Most people would just be reminded of the vacation newlyweds have after their wedding. Unfortunately, this blush is crumbled in its palette and makes a mess every time I open it now. Thankfully, I can still use it. It just provides a light pink very subtle shimmer for your cheeks.
Lastly, I received a great eyeliner from Hard Candy. It is a Take Me Out Glitter Eye Liner in a dark green shade called Money. While I don't have a reason to wear green eyeliner very often, it is a fun color to use and really shows off my green eyes.
Giveaway: Four lucky readers will win a Hard Candy prize package that includes:
* Mouthing Off-Au Natural
* Eye for an Eye-Java
* Curl Up & Dye-Ink
* Just Nails-Hypnotic
* Kal-eye-descope- Ab Fab
Required Entry: Tell me an item you would like to own from the Hard Candy website.
For extra entries you can do any or ALL of the following:
* Follow my blog through Google Friend Connect (sidebar).
* Subscribe to my feed via e-mail or RSS.
* Follow @lelandsmama on Twitter.
* Follow @HeresHardCandy on Twitter.
* Tweet about this giveaway using the retweet button at the top of this post (or if you're feeling creative, use your own tweet). This can be done once daily.
* Grab my button and place it on your sidebar or blog roll. Leave me a link to the location of the button in the comments section of this post.
* Grab the Spoil Your Family Summer Event button and place it on your sidebar or blog roll. Leave me a link to the location of the button in the comments section of this post. (Remember it's 5 entries, which means 5 comments if you had the button before July 1st!)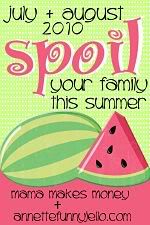 * Leave a comment on a non-giveaway post and leave a comment below telling me where you commented. This can be any post written in the past month and can be done as many times on separate posts as you would like for extra entries. Make sure the comment you leave is legitimate, at least 3 words.
* Blog about this giveaway = 5 Entries (Please leave 5 comments). Link back to this post and Hard Candy. (Make sure you leave me a link to your blog entry. Blog post must be at least 100 words and NOT be copied and pasted from my blog.)
* Enter the Hard Candy giveaway at Annette Funnyjello.
* "Like" Mama Makes Money on Facebook.
* "Like" Hard Candy on Facebook.
* Follow Mama Makes Money on Networked Blogs.
* Add this giveaway to a Mister Linky, Contest Site, Forum, Facebook, Myspace, Stumble, Digg, etc. (unlimited entries).
This giveaway will end on Wednesday September 15, 2010 at 11:59 PM CST and is open to residents of the USA. I will choose the winner via random.org and announce and e-mail the winner some time on September 16, 2010.
Disclosure: Hard Candy provided me with product(s) to review for this post. They are also providing the prize to the winner of this giveaway. All opinions expressed about the company are 100% mine.