Welcome to the Spoil Your Family Summer Giveaway Event being hosted by Annette from Annette Funnyjello and myself. Today is all about companies that provide us to spend fun quality time with our families. Our first sponsor of the day is Hasbro. Be sure to visit Annette's blog for another chance to win the same prize being offered here.
When I say Hasbro, I'm sure board games are the first thing that comes to mind for the majority of people. Hasbro sells many other fun items for kids and the whole family though, including action figures, puzzles, infant and pre-school toys and the list goes on and on. My favorite Hasbro product is without a doubt Scrabble…no particular edition, just in general.
For my Hasbro review, our family received the Scrabble Folio Edition, which is a travel edition basically. This edition is so useful in my household. My fiancé got a ton of use out of it during his trip to New York this month and we play frequently at home as well.
The Folio edition is miniature for travel purposes. It comes in a binder which can be zipped up nicely for storing in a suitcase or even putting your game to the side to continue play later. How so, you may ask? Well, the letter tiles and board connect to each other and it isn't so easy to knock them out. This comes in handy when my toddler is trying to destroy the game board. Not one single tile strays from the board, also helpful when traveling on a bumpy road during a long car ride. The tile holders even close so your letters don't go flying all over the place because trust me, you would not find them. They are super tiny. Here is a picture of our most current game so you can get a general idea of the size of the Folio Scrabble game.
Giveaway: Hasbro also offers some great card games the whole family can enjoy during their Summer travels…or year round. One of my readers will win one of each of the following: Sorry! Revenge, Yahtzee Hands Down, Mille Bornes and Scrabble Slam (ARV $28).
Required Entry: Tell me another item you would like to own from the Hasbro website.
For extra entries you can do any or ALL of the following:
* Follow my blog through Google Friend Connect (sidebar).
* Subscribe to my feed via e-mail or RSS.
* Follow @lelandsmama on Twitter.
* Follow @familygamenight on Twitter.
* Tweet about this giveaway using the retweet button at the top of this post (or if you're feeling creative, use your own tweet). This can be done once daily.
* Grab my button and place it on your sidebar or blog roll. Leave me a link to the location of the button in the comments section of this post.
* Grab the Spoil Your Family Summer Event button and place it on your sidebar or blog roll. Leave me a link to the location of the button in the comments section of this post. (Remember it's 5 entries, which means 5 comments if you had the button before July 1st!)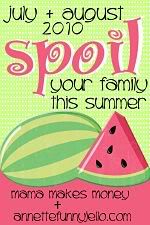 * Leave a comment on a non-giveaway post and leave a comment below telling me where you commented. This can be any post written in the past month and can be done as many times on separate posts as you would like for extra entries. Make sure the comment you leave is legitimate, at least 3 words.
* Blog about this giveaway = 5 Entries (Please leave 5 comments). Link back to this post and Hasbro. (Make sure you leave me a link to your blog entry. Blog post must be at least 100 words and NOT be copied and pasted from my blog.)
* Enter the Hasbro giveaway at Annette Funnyjello.
* "Like" Mama Makes Money on Facebook.
* "Like" Family Game Night on Facebook.
* Follow Mama Makes Money on Networked Blogs.
* Add this giveaway to a Mister Linky, Contest Site, Forum, Facebook, Myspace, Stumble, Digg, etc. (unlimited entries).
This giveaway will end on Saturday August 7, 2010 at 11:59 PM CST and is open to residents of the USA and Canada. I will choose the winner via random.org and announce and e-mail the winner some time on August 8, 2010.
Disclosure: Hasbro provided me with product(s) to review for this post. They are also providing the prize to the winner of this giveaway. All opinions expressed about the company are 100% mine.