Welcome to the Spoil Your Family Summer Giveaway Event being hosted by Annette from Annette Funnyjello and myself. Our second sponsor today is Jockey, where you can find underwear, bras, socks and intimates. Be sure to visit Annette's blog for another chance to win the same prize being offered here.
Jockey International, Inc. was founded in 1876 by Samuel T. Cooper, a retired minister who wanted to help lumberjacks suffering from blisters and infections caused by their shoddy wool socks. Consumers learned they could trust him, and his tiny hosiery business grew and then expanded into underwear. As we have grown in size and sophistication, that simple commitment to serve our customers has continued to be our hallmark…and the secret of our success.
I won a Jockey giveaway about a year ago and still wear the camis and undies I bought with my gift card. They're super comfortable and still in great shape, so I was very happy to review some items for Jockey.
The first item I received was the Medium Impact Moulded Cup Mesh Bra. I haven't owned a sports bra since…well, since before I even needed one to be honest. So, this was a nice treat since I'm beginning to exercise more often. For those with large breasts, like myself, it can be a huge annoyance to run, jump, bend over, what have you with anything else but a sports bra. I needed this, it is definitely helpful.
The other item I received was a 3-pack of Elance® Supersoft French Cut underwear. Just like the undies I previously purchased from Jockey, these are so comfortable…and of course, soft! I wish they offered cuter styles and designs, but how can you complain when you're underthings are so extremely comfy?
Giveaway: One reader will receive their own Jockey sports bra and 3-pack of Elance Supersoft undies.
Required Entry: Tell me another item you want from the Jockey website.
For extra entries you can do any or ALL of the following:
* Follow my blog through Google Friend Connect (sidebar).
* Subscribe to my feed via e-mail or RSS.
* Follow @lelandsmama on Twitter.
* Follow @jockey on Twitter.
* Tweet about this giveaway using the retweet button at the top of this post (or if you're feeling creative, use your own tweet). This can be done once daily.
* Grab my button and place it on your sidebar or blog roll. Leave me a link to the location of the button in the comments section of this post.
* Grab the Spoil Your Family Summer Event button and place it on your sidebar or blog roll. Leave me a link to the location of the button in the comments section of this post. (Remember it's 5 entries, which means 5 comments if you had the button before July 1st!)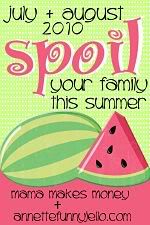 * Leave a comment on a non-giveaway post and leave a comment below telling me where you commented. This can be any post written in the past month and can be done as many times on separate posts as you would like for extra entries. Make sure the comment you leave is legitimate, at least 3 words.
* Blog about this giveaway = 5 Entries (Please leave 5 comments). Link back to this post and Jockey. (Make sure you leave me a link to your blog entry. Blog post must be at least 100 words and NOT be copied and pasted from my blog.)
* Enter the Jockey giveaway at Annette Funnyjello.
* "Like" Mama Makes Money on Facebook.
* "Like" Jockey on Facebook.
* Follow Mama Makes Money on Networked Blogs.
* Add this giveaway to a Mister Linky, Contest Site, Forum, Facebook, Myspace, Stumble, Digg, etc. (unlimited entries).
This giveaway will end on Friday August 20, 2010 at 11:59 PM CST and is open to residents of the USA. I will choose the winner via random.org and announce and e-mail the winner some time on August 21, 2010.
Disclosure: Jockey provided me with product(s) to review for this post. They are also providing the prize to the winner of this giveaway. All opinions expressed about the company are 100% mine.