Welcome to day 26 of the Spoil Your Family Summer Giveaway Event being hosted by Annette from Annette Funnyjello and myself. Today's sponsors are Marshalls and T.J. Maxx. I will be holding a giveaway from Marshalls and Annette will be holding one for T.J. Maxx, but don't be afraid to enter both because the gift cards can be used at both stores, so be sure to enter the giveaway at both of our blogs.
Marshalls and T.J. Maxx are two of my favorite clothing stores in my area. I am always sure to get trendy, quality clothes at a fraction of the cost. Both stores also sell kitchenware, art, toys and so much more, which I own plenty of as well.
Yesterday I took a trip to Marshalls and walked out with two bags for less than $40. The entire outfit below was purchased there and all at great prices.
Tank Top – $4
Shorts – $10
Flip Flops – $7
Total – $21
My favorite find during this shopping trip was a pink tank top that says "Love is a Battlefield", which was only $5. I also found a cute plaque for my wedding next month which says "The best thing to hold onto is each other." I thought it was cute. I'm not sure yet how I will incorporate it into the wedding but it was definitely a great purchase at only $3. Last but not lease, I bought a toy for Leland that he played with all throughout the store. It was a soccer ball which cost $6 and Leland carries it with him all the time now.
You can also find all sorts of back to school clothes and dorm style products at Marshalls right now. And did I mention they sell perfumes and hair products at a much lower cost than other stores? If you haven't check out Marshalls and it's sister company, T.J. Maxx, definitely check them out for some rockin' prices.
Giveaway: One lucky reader will win a $25 gift card to Marshalls (also good at T.J. Maxx).
Required Entry: Tell me what you would most likely spend the Marshalls gift card on if you won.
For extra entries you can do any or ALL of the following:
* Follow my blog through Google Friend Connect (sidebar).
* Subscribe to my feed via e-mail or RSS.
* Follow @lelandsmama on Twitter.
* Follow @marshalls on Twitter.
* Tweet about this giveaway using the retweet button at the top of this post (or if you're feeling creative, use your own tweet). This can be done once daily.
* Grab my button and place it on your sidebar or blog roll. Leave me a link to the location of the button in the comments section of this post.
* Grab the Spoil Your Family Summer Event button and place it on your sidebar or blog roll. Leave me a link to the location of the button in the comments section of this post. (Remember it's 5 entries, which means 5 comments if you had the button before July 1st!)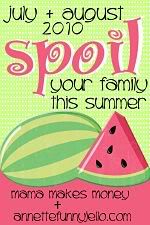 * Leave a comment on a non-giveaway post and leave a comment below telling me where you commented. This can be any post written in the past month and can be done as many times on separate posts as you would like for extra entries. Make sure the comment you leave is legitimate, at least 3 words.
* Blog about this giveaway = 5 Entries (Please leave 5 comments). Link back to this post and Marshalls. (Make sure you leave me a link to your blog entry. Blog post must be at least 100 words and NOT be copied and pasted from my blog.)
* Enter the T.J. Maxx giveaway at Annette Funnyjello.
* "Like" Mama Makes Money on Facebook.
* "Like" Marshalls on Facebook.
* Follow Mama Makes Money on Networked Blogs.
* Add this giveaway to a Mister Linky, Contest Site, Forum, Facebook, Myspace, Stumble, Digg, etc. (unlimited entries).
This giveaway will end on Monday August 9, 2010 at 11:59 PM CST and is open to residents of the USA. I will choose the winner via random.org and announce and e-mail the winner some time on August 10, 2010.
Disclosure: Marshalls/T.J. Maxx provided me with product(s) to review for this post. They are also providing the prize to the winner of this giveaway. All opinions expressed about the company are 100% mine.