Welcome to the Spoil Your Family Summer Event being hosted by Annette from Annette Funnyjello and myself. Today's sponsors are all about getting fit and healthy. Our first sponsor is Weight Watchers. Be sure to visit Annette's blog for another chance to win the same prize being offered here.
I just recently joined the Weight Watchers program for the second time in my life. Of course, thinking back on it, I was probably way too young to be dieting when I started it the first time. I ate mostly soup and salad the first time around and it really helped. I don't know why I stopped. I think it was too much for me to remember to keep track of my points.
Now that I'm older I'm giving it a second go. I was inspired by some posts from another blogger (The Creative Junkie) who shared her Weight Watchers journey. You can read her first post in the series here. I will be happy if I can lose two dress sizes or 20 pounds, whichever comes first.
Weight Watchers was nice enough to offer some coupons for free cheese to try out. I decided to go with the cream cheese and shredded Mexican cheese. To me, cheese is cheese, and they all taste the same. I don't taste a difference in the reduced fat Weight Watchers brand but that could very well be because I'm not eating the cheese alone. The cream cheese is amazing on my blueberry bagels. It's my early morning Heaven. The shredded Mexican cheese was used on taco night, so you know there was a ton of ingredients involved in that…but honestly, I taste no difference, so I'm happy to purchase something better for me. But I do, however, wish it were easier to find at a store in my city. Stores that supposedly sell it according to the Weight Watchers site didn't and it was just a huge headache.
Giveaway: One reader will win a Summer Essentials Prize Pack (ARV $50) which includes:
* cookbook
* cheese vouchers
* ice cream vouchers
* sweet baked goods vouchers
* bag of Mint Patties
Required Entry: Tell me which product you would most like to try from the Weight Watchers website.
For extra entries you can do any or ALL of the following:
* Follow my blog through Google Friend Connect (sidebar).
* Subscribe to my feed via e-mail or RSS.
* Follow @lelandsmama on Twitter.
* Follow Weight Watchers on Twitter.
* Tweet about this giveaway using the retweet button at the top of this post (or if you're feeling creative, use your own tweet). This can be done once daily.
* Grab my button and place it on your sidebar or blog roll. Leave me a link to the location of the button in the comments section of this post.
* Grab the Spoil Your Family Summer Event button and place it on your sidebar or blog roll. Leave me a link to the location of the button in the comments section of this post. (Remember it's 5 entries, which means 5 comments if you had the button before July 1st!)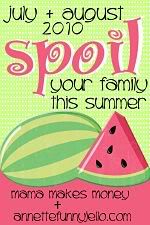 * Leave a comment on a non-giveaway post and leave a comment below telling me where you commented. This can be any post written in the past month and can be done as many times on separate posts as you would like for extra entries. Make sure the comment you leave is legitimate, at least 3 words.
* Blog about this giveaway = 5 Entries (Please leave 5 comments). Link back to this post and Weight Watchers. (Make sure you leave me a link to your blog entry. Blog post must be at least 100 words and NOT be copied and pasted from my blog.)
* Enter the Weight Watchers giveaway at Annette Funnyjello.
* "Like" Mama Makes Money on Facebook.
* "Like" Weight Watchers on Facebook.
* Follow Mama Makes Money on Networked Blogs.
* Add this giveaway to a Mister Linky, Contest Site, Forum, Facebook, Myspace, Stumble, Digg, etc. (unlimited entries).
This giveaway will end on Wednesday August 18, 2010 at 11:59 PM CST and is open to residents of the USA. I will choose the winner via random.org and announce and e-mail the winner some time on August 19, 2010.
Disclosure: Weight Watchers provided me with product(s) to review for this post. They are also providing the prize to the winner of this giveaway. All opinions expressed about the company are 100% mine.