Welcome to the Spoil Your Family Summer Giveaway Event being hosted by Annette from Annette Funnyjello and myself. Our second sponsor in our "Spoil the Kitchen" theme today is Xtrema. Be sure to visit Annette's blog for another chance to win the same prize being offered here.
"We have the healthiest and most versatile cookware on the Planet. Xtrema Ceramic Cookware is healthier than any other cookware and we have documented scientific and laboratory testing to prove it. "It is what separates Ceramcor from all of the other cookware companies."

Features and Benefits:

* Xtreme High Temperature: Cookware can withstand 2,700 F, Steel can melt at 2,200 F
* Xtremely Easy to Clean: Non-Scratch, Non-Toxic Ceramic Glaze Surface
* Xtremely Attractive: High Gloss Black Finish
* Xtremely Versatile: Oven, Stovetop, Broiler, Freezer, Barbeque Grill, Microwave Oven, Dishwasher and Dining Room Table
* Xtremely Healthy Cooking: No Trace Metals or Chemicals Leaching from the Cooking Surface
* Xtremely Practical: Reduces Cooking Time and Uses Less Energy, Foods Stay Hotter Longer
* Xtremely Tasty: Ceramic Far Infrared Cooking Enhances the Food Flavor and the Entire Cooking Experience
* Xtremely Durable: Cooking Surface can not be Scratched, even by Metal Utensils and Industrial Steel Wool
I received the 10″ Open Skillet from the Xtrema website for review and I love it. The first meal I made with it was catfish and it was oh so yummy! This skillet was handcrafted and is 100% green and eco-friendly. I also love that this skillet is so easy to clean and non-stick. I was also skeptical about the skillet being scratch-free but so far, so good.
Giveaway: One reader will receive their own 10″ Open Skillet (ARV $99.99)
Required Entry: Tell me another product you would most like to try from the Xtrema website.
For extra entries you can do any or ALL of the following:
* Follow my blog through Google Friend Connect (sidebar).
* Subscribe to my feed via e-mail or RSS.
* Follow @lelandsmama on Twitter.
* Follow @XtremaCookware on Twitter.
* Tweet about this giveaway using the retweet button at the top of this post (or if you're feeling creative, use your own tweet). This can be done once daily.
* Grab my button and place it on your sidebar or blog roll. Leave me a link to the location of the button in the comments section of this post.
* Grab the Spoil Your Family Summer Event button and place it on your sidebar or blog roll. Leave me a link to the location of the button in the comments section of this post. (Remember it's 5 entries, which means 5 comments if you had the button before July 1st!)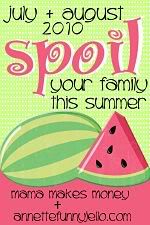 * Leave a comment on a non-giveaway post and leave a comment below telling me where you commented. This can be any post written in the past month and can be done as many times on separate posts as you would like for extra entries. Make sure the comment you leave is legitimate, at least 3 words.
* Blog about this giveaway = 5 Entries (Please leave 5 comments). Link back to this post and Xtrema. (Make sure you leave me a link to your blog entry. Blog post must be at least 100 words and NOT be copied and pasted from my blog.)
* Enter the Xtrema giveaway at Annette Funnyjello.
* "Like" Mama Makes Money on Facebook.
* "Like" Xtrema on Facebook.
* Follow Mama Makes Money on Networked Blogs.
* Add this giveaway to a Mister Linky, Contest Site, Forum, Facebook, Myspace, Stumble, Digg, etc. (unlimited entries).
This giveaway will end on Friday August 27, 2010 at 11:59 PM CST and is open to residents of the USA. I will choose the winner via random.org and announce and e-mail the winner some time on August 28, 2010.
Disclosure: Xtrema provided me with product(s) to review for this post. They are also providing the prize to the winner of this giveaway. All opinions expressed about the company are 100% mine.